CISP understands that backing up critical data is perhaps the most important component of any Disaster Recovery/Business Continuity plan. As with all IT services, we take an individual approach to address specific backup needs and goals in order to find the best overall solution. We understand there is no single answer for all customers, so CISP utilizes the following products to provide the best total solution:
Veeam Software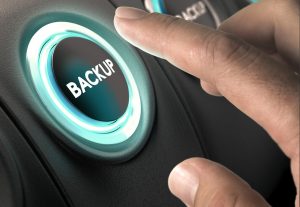 Veeam® Backup & Replication™ provides an award-winning platform for backup, recovery, and replication of virtualized applications and data. The #1 VM Backup™ for VMware vSphere and Microsoft Hyper-V virtual environments.
Features
Backup
Veeam Backup & Replication provides fast and reliable image-based backup for vSphere and Hyper-V virtual environments — all without the use of agents — giving you the ability to achieve shorter backup windows and reduce backup and storage costs.
Veeam's Application-Aware Processing guarantees consistency when backing up your applications via direct integration into native tools including Microsoft Volume Shadow Copy Services (VSS)
Protect your sensitive data with backup encryption
Recovery
Restore entire VMs, individual files and everything in between
Veeam Backup & Replication delivers lightning-fast, reliable restore for individual files, entire VMs and application items — ensuring you have confidence in virtually every recovery scenario — giving you the ability to attain low recovery time objectives (RTO) of < 15 minutes.
Next-generation Instant Recovery engine: Accelerates Disaster Recovery with mass instant restores powered by Veeam's next generation Instant Recovery engine.
Replication
Streamline data availability and disaster recovery
Deliver advanced, imaged-based VM replication and streamlined disaster recovery — ensuring availability of your mission-critical applications. Veeam gives you the ability to achieve recovery time objectives (RTOs) of < 15 minutes for ALL applications.
Offsite Backup Storage
Increase your chances of recovery with offsite backups
Utlize Veeam's Backup Copy function to copy your backups to multiple locations including offsite/cloud storage.
Quest's Rapid Recovery
The next generation of Rapid Recovery offers complete server, data and application protection for your virtual, physical and cloud infrastructures.
Features
Backup
Rapid Snap for Applications and VMs
Granular recovery point schedule to reduce risk of data loss
Use incremental-forever snapshots to capture an entire application and its relevant state, up to every 5 minutes, for complete application and system recovery with near-zero RTOs and aggressive RPOs.
Agent based backups for physical servers
Protect your sensitive data with backup encryption
Application support for SQL, Exchange, Oracle and SharePoint
Restore
Restore entire VMs and individual files
Restore operations near-instantly with an RTO of minutes with Live Recovery.
Continually send updates to a virtual machine that can be activated in the event there's an issue with the primary machine with Virtual Standby
CrashPlan
Restore your business files quickly and easily from the CrashPlan platform.  CrashPlan leads the market in on-line file level backup solutions.
Features
Full-Featured Backup
Customize your backup plan and optimize file versioning, compression and retention policies.
Continuous or scheduled
Unlimited file versioning
File compression and data de-duplication
Background validation and verification
Easy Restore
Quickly restore your backed-up files your way.
Restore via the desktop console and web-based tool
Administrator or individual user-initiated restores
Select file(s) by any date, time or version
Deleted files are never removed from your archive
Security
Your files are always encrypted before being backed-up – the most effective way to protect your data.
256 AES data encryption
Encrypt your data in transite and at rest
Crashplan offers multiple ways to store your encryption keys